Pastor Lamor Miller-Whitehead's Robbery Points Spotlight On Very Disturbing Questions About His Life And Ministry
The Founder and Senior Pastor of the Leaders of Tomorrow Church in Brooklyn, New Jersey, USA, Pastor Lamor Miller-Whitehead, aka Bishop, and his wife were recently robbed of all their jewelry at gunpoint while he was preaching in church. The stolen jewelry is reportedly worth over $1 million.
The NYPD confirmed that investigations into the robbery are in full swing. They received reports that three people entered the church of the well renowned and very flashy pastor known for wearing designer outfits and extravagant jewelry in Brooklyn and robbed him and his wife at gunpoint.
A video of the robbery incident, which has now been deleted on the church's live stream, reportedly captured a moment when one of the robbers interrupted the Pastor's sermon and held a gun to him, forcing him to lower himself to the ground.
While recounting his ordeal to the media, Pastor Lamor disclosed that he told the robber that he would cooperate with them so that his parishioners won't get hurt.
"I got women and children there. As I got down, one went to my wife and took all her jewelry and had the gun in front of my 8-month-old baby's face," he reportedly told them.
"Took off my bishop's ring, my wedding band and took off my bishop chain, and then I had chains underneath my robe. He started tapping my neck to see if (there was) anything else, which means they knew; they watched and knew that I have other jewelry. My church is traumatized," he added.
He also disclosed that the gunmen held up his deacons at the door, too, while they robbed him and his wife.
According to the NYPD, there were about 20 to 25 congregants present when the robbery took place. The perpetrators left the church on foot before reportedly entering a white Mercedes-Benz vehicle which was seen traveling eastbound on Avenue D.
Pastor Lamor founded the Leaders of Tomorrow Church in 2013 after obtaining his license as a New York State Chaplain and a certified marriage and funeral officiant. He had attended the New York Theological Seminary and completed his studies with a certificate in Ministry in Human Services from the Theological Institution of Rising Hope Inc.
He was also allegedly adopted as a mentee by the current Mayor of New York, Eric Adams, who is also the former Brooklyn Borough President.
A statement released by the Mayor said: "No one in this city should be the victim of armed robbery, let alone our faith leaders and congregants worshiping in a House of God.
The NYPD is investigating this crime and will work tirelessly to bring the criminals involved to justice."
His experience, the reactions it has generated since the robbery occurred, and many other things about him raise a few questions in our minds, and we would like to share them with you below:
(1) What kind of believer wears flashy and attention-seeking outfits and jewelry, let alone a pastor?
As children of God, or supposed children, we are guided by HIS Word on all that concerns our lives. So, let's take a look at these critical scriptures that addresses this issue quite directly:
"Whose adorning let it not be that outward adorning of plaiting the hair, and of wearing of gold, or of putting on of apparel; But let it be the hidden man of the heart, in that which is not corruptible, even the ornament of a meek and quiet spirit, which is in the sight of God of great price." – 1 Peter ‭3:3-4‬.
And before you think or say that this one above refers to women (which does not imply in any way that men are exempted, though), here's what Paul also has to say about being modest as Christians:
"Let your moderation be known unto all men. The Lord is at hand." – ‭‭Philippians‬ ‭4:5‬.‬
From the above scripture alone, it is already quite evident that this popular Brooklyn pastor is living in great error. Sadly, he is teaching and influencing others in his congregation and beyond towards the same.
Like, his excessiveness was so known, the robbers knew to tap his chest for more jewelry beneath his shirt because they already knew him to be a "stunner" like that.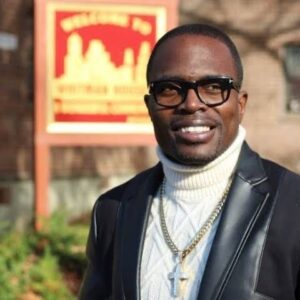 According to reports, Pastor Lamor's verified Instagram page is also filled with his extravagant displays of wealth, including Louis Vuitton-emblazoned suits, large jewelry, and flashy cars.
He also reportedly reacted to recent media headlines referring to him as "flashy," saying: "It's not about me being flashy. It's about me purchasing what I want to purchase.
It's my prerogative to purchase what I want to purchase. If I worked hard for it, I can purchase what I want to purchase."
Abraham was so wealthy, yet he chose to dwell in tents – "For he looked for a city which hath foundations, whose builder and maker is God." (Read Hebrews ‭11:9-10‬).
This is the testimony about Abraham, one of the fathers of our faith, but the former is the testimony regarding a supposed pastor allegedly leading God's flock nowadays? Jesus wept!
(2) What did the early Church do consistently with its wealth?
There are no official or known records of Pastor Lamor's charities; non-profit organizations set up to empower and transform the lives of other people in his church and the society, or even any foundations established to help rehabilitate and change the lives of addicts – that abound in Brooklyn, New York City, by the way.
Even the only renowned charity activity he was involved with reportedly turned out to be "suspicious to authorities after the pastor claimed to have promoted a collaborative justice initiative with the Brooklyn District Attorney's Office in 2014."
According to reports, Brooklyn DA's office officials allegedly sent the pastor a "cease-and-decease letter" in November 2014, which marked the end of that alleged "charity."
And now, he can afford to buy jewelry worth over $1 million and many other expensive luxurious things, which he reportedly flaunts online because he "can afford them," right?
The simple question here again is: How does he, in any way, resemble any of the fathers of this same faith that was later called "Christianity" due to how the believers of old were so much like Christ?
"And all that believed were together, and had all things common; And sold their possessions and goods, and parted them to all men, as every man had need." – Acts ‭2:44-45‬.
His own money is for costly jewelry and lavish living, but how many of his parishioners and others around him are benefiting from this wealth he so carelessly flaunts around?
(3) What kind of pastor steals from his flock?
After news of the robbery at Pastor Lamor's church started trending, another angle came up that has us quite alarmed and bewildered.
According to reports, a 57-year-old member of his church sued him for $1 million in 2021 after he allegedly defrauded her of $90,000, claiming he "wanted to help her procure a home despite her poor credit records."
The woman named Pauline Anderson reportedly later found out she had been duped when the pastor mistakenly sent her son an email detailing his plans to buy a $4.4 million house for himself in Saddle River. Even after discovering his scam, he still went ahead to purchase a $4.5 million apartment building in Hartford, Connecticut, as the Saddle River purchase eventually fell through.
Pauline reportedly had to report him to the police and sued him for his "morally repugnant activities" and making her "lose her whole life savings."
We've known legendary thieves like Robin Hood, who robbed the rich to empower the poor. Sadly, nowadays, the church and pulpit have been weaponized into an instrument to rob the poor that came to God and the church for help.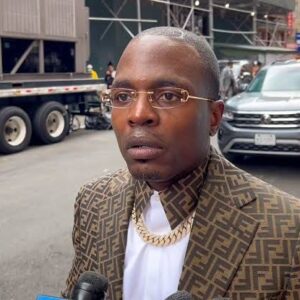 The suit against him is still in court, according to reports, but the fact that Pastor Lamor is an ex-convict who was jailed for five years for grand larceny and fraud before "turning to faith" doesn't bode well for him on this matter at all.
If this new allegation against him is true, we can only ask again: What kind of shepherd steals from his flock?!
In conclusion, we must add, though, that Pastor Lamor is not the only one guilty of haven completely deviated from the original faith that made the people of Antioch coin the word "Christian" when they witnessed the faith of the early believers.
Getting robbed at gunpoint is not a pleasurable experience, and we do not wish it on anyone, no matter how wrong they live.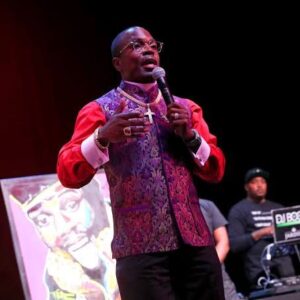 However, being a voice for unbiased and unreserved truth, we urge everyone who claims to be called by the name of God to please live true to it! It's high time we all start representing our faith well and be examples of what it truly means to be a "Christian" indeed.
May God help us all; Amen.