Russia Allegedly Received "Substantial Swap Offer" From The US For Brittney Griner Since June But Have Refused To Bulge!
The United States of America Secretary of State Antony Blinken recently announced that the USA has officially opened prisoner swap talks with Russia for jailed WNBA star Brittney Griner and former Marine Paul Whelan, who has also been detained in Russia since 2018 on charges of espionage.
Anthony reportedly disclosed that the prisoner swap is supposed to include convicted Russian arms dealer Viktor Bout, who is popularly known as the "Merchant Of Death."
However, during the disclosure made after Brittney's last appearance in court on July 27, 2022, Anthony also revealed that Washington had made this "significant trade offer" for the basketball star "months after she was arrested in Moscow airport for allegedly carrying hashish oil."
Although the US Department of Justice is allegedly kicking against the reported swap plan because it is against its policy to trade prisoners, it has received the blessing and full backing of President Joe Biden.
"We communicated a substantial offer that we believe could be successful based on a history of conversations with the Russians. We expressed that a number of weeks ago, in June.
It is now in Russia's court to be responsive to it, yet at the same time, that does not leave us passive, as we continue to communicate the offer at very senior levels," Anthony said.
There has been considerable pressure on the White House by the families of Brittney and Paul to secure their release at any cost possible, and Washington had maintained that getting them out has been a top priority.
Many other Americans do not share the optimism of going through with this prisoner swap, though, as they feel it would "paint a target on the backs of American citizens worldwide, and incentivize their arrest and kidnapping."
This view was expressed by Republican Representative Mike Waltz, who also spoke to reporters on July 27, 2022, after Anthony's announcement.
According to Mike, "authoritarian governments will increasingly see Americans abroad as bargaining chips amid U.S. officials seeking a deal with Russia for the release of imprisoned WNBA player Brittney Griner."
The move has already been sanctioned by POTUS, though, and all that is left is seemingly in the hands of the Russians, which brings us to two negative signs we have observed in this proposed arrangement, especially for Brittney.
(1) Russia has been unresponsive and is playing hardball over the deal.
While it is excellent news that the Biden administration has finally done more than talk about bringing Brittney and Paul home, the disturbing part is that Moscow is reenacting "Cold War" tactics on the deal by being quiet on the swap offer!
It doesn't look like Russia wants to go ahead with the proposed prisoner swap haven reportedly received the proposal in June 2022 and kept mute about it.
This could be a ploy for Moscow to squeeze more out of Washington on the deal, though, so we can all only but wait and see where they are headed with this present "cold shoulder" treatment.
(2) No respite in sight for Brittney till a verdict is reached on her case!
From all indications, too, there will be no easy way out of this for Brittney, as it is reported that there can be no exchange for her until her trial is over.
According to her lawyers, on July 27, 2022, there is hope that the nightmare trial will be over in early August 2022, but that's not for them to decide, though. Whatever the Russians are up to with her detention, they may choose to frustrate the Americans by prolonging the trial till whenever pleases them.
Whichever way it goes, the WNBA star is the one who gets to suffer for it as she waits in detention till the trial is over.
This serves as a reminder to everyone to always walk circumspectly and be extra careful with the way we live and the things we do, especially whenever we're leaving or not within our comfort or influence zones!
Living well and doing the right thing always shouldn't also be restricted to whenever you're in your sphere of influence, too, though.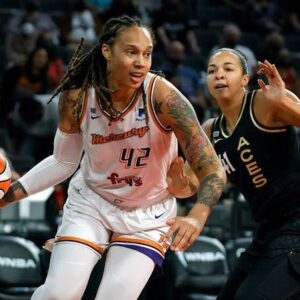 This is because what you do consistently becomes a part of your subconscious mind; hence you will end up repeating those things unknowingly, even in places you may never mean to, as Brittney did with the vape cartridges "accidentally left" in her luggage.
Do you think the Russians will eventually decide to proceed with the U.S. proposed prisoners swap? Please let us know in the comments section below or via our Facebook pages: Wenetly and Prof. Mgbeke.