Kamala
Devi Harris
We take you through the journey of the strong and vibrant Kamala Harris. We begin from her humble childhood to her Heroic accomplishments.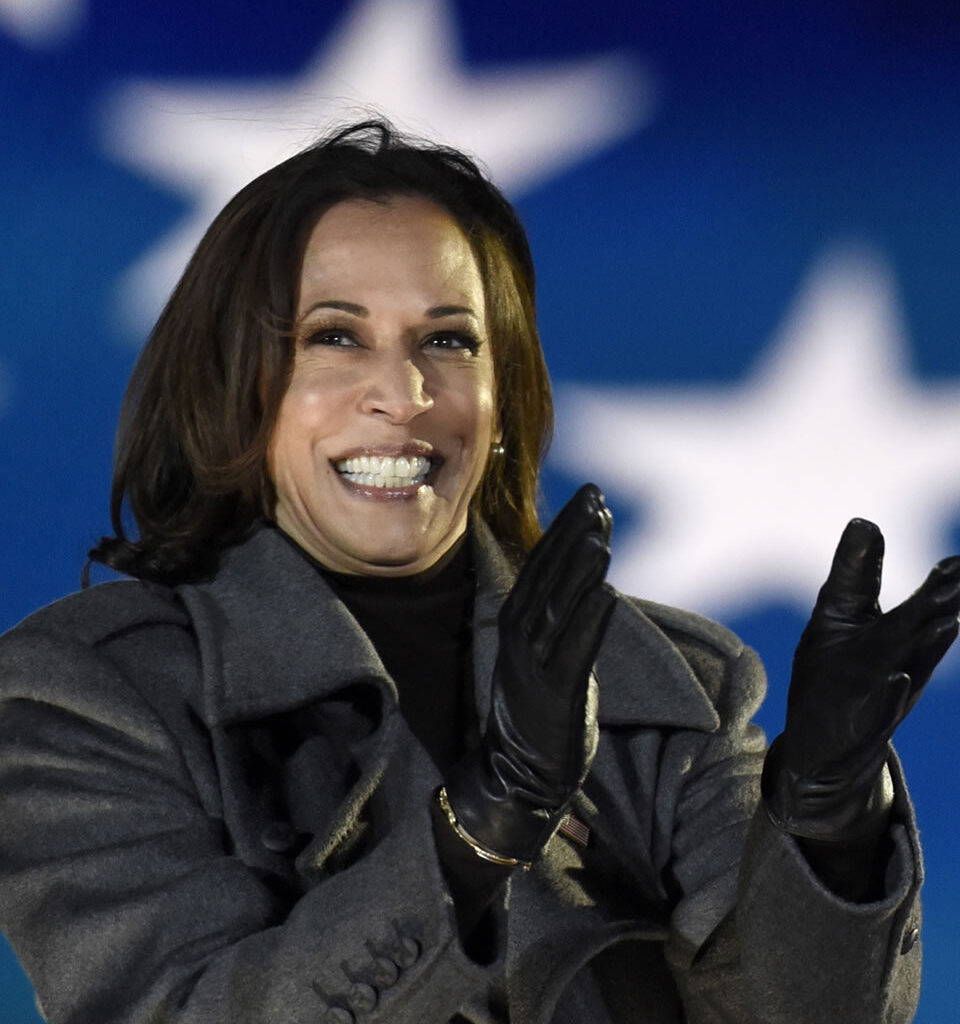 Kamala Harris, was born on October 20, 1964 in Oakland, to a Black Stanford University professor and a Tamil Indian physician mother who were immigrants to the United States. Her father Donald Harris came from Jamaica and her mother Shyamala Gopalan came from India. Her parents met as doctoral students at the University of California, Berkeley at the dawn of the 1960s. Harris became the first Black woman, the first person of Indian descent, and the fourth woman in U.S. history to be selected for a presidential ticket by a major party, when she accepted the vice-presidential nomination with Democrat Joe Biden. In November 2020, Harris was elected as vice president, for a term beginning on January 20, 2021.
Harris was also the first California attorney general with Black or South Asian ancestry after defeating Republican rival Steve Cooley in the 2010 election for the position. Harris, formerly San Francisco's district attorney, was also the first woman to serve in the role.
Kamala Harris sought the Democratic presidential nomination, announcing her intention on Martin Luther King, Jr. Day 2019, but dropped out of the primary race in December 2019.
Name: Kamala Devi Harris
Born: October 20, 1964, in Oakland, CA
Known For: Vice President of the United States. Previously the Junior Senator from California; sat on Senate Budget, Homeland Security and Governmental Affairs, Judiciary, and Intelligence committees. First female, Black, and South Asian district attorney in San Francisco. First California Attorney General with African American or South Asian ancestry. First woman of color to run for the vice-presidential post.
Education: Howard University, Hastings College of the Law
Spouse: Douglas Emhoff (m. 2014)
Distinctions and Awards: Named one of California's top 75 women litigators by the legal paper "The Daily Journal" and a "Woman of Power" by the National Urban League. Awarded Thurgood Marshall Award by National Black Prosecutors Association. Named Rodel Fellow by the Aspen Institute. On the board of the California District Attorneys Association.
Harris' parents divorced when she was seven years old, and at age 12 she moved with her mother and sister to Montreal, Quebec, Canada. She learned to speak some French during her time in Quebec and demonstrated her burgeoning political instincts by organizing a protest against a building owner who wouldn't allow neighborhood kids to play on the lawn.

Kamala Devi Harris attended Public schools, worshiped at Black churches, and lived in predominantly African American communities. Her immersion in African American culture didn't prevent her from being exposed to Indian culture however.

Her mother took Harris to Hindu temples to worship. Moreover, Harris is no stranger to India, having visited the subcontinent on several occasions to see relatives. Her bicultural heritage and travels around the globe have inspired political insiders to compare her with President Barack Obama. While Obama sometimes struggled with identity issues, as he describes in his memoir "Dreams from My Father," Harris evidently didn't experience growing pains in this vein.
Harris attended high school in Quebec, where she moved with her mother following her parents' divorce. After graduation, Harris attended Howard University, a historically Black academic institution. She earned a bachelor's degree from Howard in 1986 and then returned to the bay area in northern California. Upon her return, she enrolled at Hastings College of the Law, where she earned a law degree. Following that accomplishment, Harris proceeded to leave her mark on the legal arena in San Francisco.
Law degree in tow, Harris began prosecuting murder, robbery, and child rape cases as deputy district attorney for the Alameda County District Attorney's Office, serving as a prosecutor from 1990 to 1998. Then, as managing attorney of the Career Criminal Unit of the San Francisco District Attorney's Office, a position she filled from 1998 to 2000, Harris prosecuted cases involving serial felons.
Later, she headed the San Francisco City Attorney's Division on Families and Children for three years. But it was in 2003 that Harris would make history. At the year's end, she was elected as the San Francisco district attorney, becoming the first female, Black, and South Asian person to achieve this feat. In November 2007, voters re-elected her to the office.
During her 20 years as a prosecutor, Harris has shaped an identity for herself as being tough on crime. She prides herself on doubling trial conviction rates for gun felonies to 92% as San Francisco's top cop. But serious crime wasn't Harris' only focus. She also tripled the number of misdemeanor cases sent to trial and prosecuted the parents of truant children, which helped slash the truancy rate by 32%.
The San Francisco District Attorney's Office found itself under fire in early 2010 when it came to light that Deborah Madden, a drug lab technician for the city police, confessed to removing cocaine from evidence samples. Her admission resulted in the police lab's testing unit closing and pending drug cases being dismissed. The police department also had to investigate cases already prosecuted due to Madden's admission of evidence tampering.
During the scandal, it was asserted that the District Attorney's Office knew of Madden's evidence tampering. However, it remains unclear what information the district attorney knew about Madden and when Harris learned of the tech's improprieties. The San Francisco Examiner has alleged that the District Attorney's Office knew of the situation months before the public was told of the controversy and before the police chief himself learned of the news.
Harris won endorsements from California's political elite while campaigning for Attorney General, including Senator Diane Feinstein, Congresswoman Maxine Waters, California Lieutenant Governor Gavin Newsom, and former Los Angeles Mayor Antonio Villaraigosa. On the national stage, Harris had the backing of U.S. Speaker of the House Nancy Pelosi. Leaders in law enforcement also endorsed Harris, including the then-police chiefs of San Diego and San Francisco.
Harris has also won numerous honors, including being named one of California's top 75 women litigators by the legal paper The Daily Journal and as a "Woman of Power" by the National Urban League. Additionally, the National Black Prosecutors Association gave Harris the Thurgood Marshall Award and the Aspen Institute chose her to serve as a Rodel Fellow. Lastly, the California District Attorneys Association elected her to its board.
Harris met her husband, attorney Doug Emhoff, through a mutual friend who set up Harris and Emhoff on a blind date in 2013. Emhoff was an entertainment lawyer who became partner-in-charge at Venable LLP's Los Angeles office. Harris and Emhoff were married on August 22, 2014, in Santa Barbara, California. Harris is a stepmother to Emhoff's two children, Cole and Ella, from his previous marriage to the film producer Kerstin Emhoff. As of August 2019, Harris and her husband had an estimated net worth of $5.8 million.
Harris is a multiracial American and a Baptist, holding membership of the Third Baptist Church of San Francisco, a congregation of the American Baptist Churches USA. Her sister, Maya, is a lawyer and MSNBC political analyst; her brother-in-law, Tony West, is general counsel of Uber and a former United States Department of Justice senior official. Her niece, Meena, is the founder of the Phenomenal Women Action Campaign and former head of strategy and leadership at Uber.