Meet Samson Okunlola: A Uniquely Rare 5-Star Football Prospect Lighting Up Massachusetts.
Now and then, there are exceptionally talented and very gifted athletes in sports. These uniquely gifted athletes show up and practically dominate the scene in their favorite games all through their sporting careers.
Names like the late Kobe Bryant, Lionel Messi, Muhammed Ali, Tiger Woods, Tom Brady, Cristiano Ronaldo, Lebron James, Lewis Hamilton, and others readily emerge when talking about such generational talents in sports.
A 16-year-old African-American boy, Samson Okunola, is another name that looks set to join this list of uniquely gifted sports stars. Born to parents of Nigerian descent, Samson stands at an imposing height of 6-foot-6 and weighs in at 295-pounds. This intimidating physique and exceptional skills make it almost impossible to miss him on any high school football field in Massachusetts.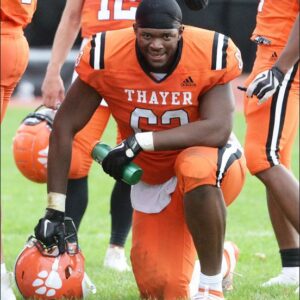 Samson is yet to become a senior at Thayer Academy in Brockton, Massachusetts, but his incredible talent has already made him a 2023 5-star offensive tackle on the football team. He does come from a family of gifted footballers, though, as two of his elder brothers – Samuel and Sunny, have already turned pro. However, not even Samuel, signed by the Pittsburgh Panthers as part of their 2022 class, was ever rated more than a 3-star prospect.
Samuel is a 6-foot-4 junior defensive end and tight end at Thayer and holds several scholarship offers. Their brother, Sunny, is a former Enterprise All-Scholastic and Brockton High standout, and he plays in the Div. 1 college football ranks in his first year at Merrimack.
Superstar recruits reportedly rarely come out of Massachusetts, so it is indeed a huge deal to have one who none other before he has ever measured up to. The beauty of it all is that none of this gets to Samson's head because he doesn't pay too much notice to all the fame and national attention.
While discussing his recruitment process and other issues in a recent interview, the giant lineman cut a modest figure as he said: "I don't necessarily feel any pressure. I want more out of myself, and I want to get better as an athlete and student. It has given me opportunities I thought I would never have."
Samson also paid glowing tributes to the caliber of recruits at the college football level that the State has produced before him. He said: "I know many players before I could have been 5-stars. I'm just bringing more light to Massachusetts. We've got players that can ball too."
His massive appearance and dazzling skill level are not the only things smashing records about him. Samson reportedly has had 39 total offers already, and he plans to reveal his top picks soon. No other player in the entire history of Massachusetts has ever had that number of offers before. Even the most prominent name the State has produced in a while, A.J. Dillon, only had a total of 17 offers in his time before he eventually opted to remain in Massachusetts and selected Boston College.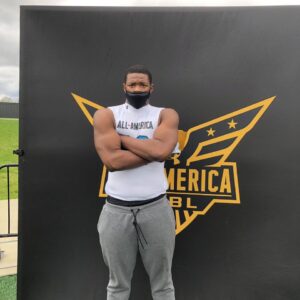 There is undoubtedly more for Samson, too, as his list of offers will keep growing when he starts playing as a senior. He already has some very prestigious schools across the entire country on his back, but he is not bothered by the attention and will not be rushed into making a pick just yet. According to him, his ideal college football home must be one that can develop him as a player and a student. "They must also be able to provide a consistent and stable coaching staff because this is very important to me," Samson added.
In all of these glowing things about Samson, a few things about him stand out to us, and we would like to share them with you now.
(1) Samson's level of maturity and stability is quite exemplary for his age, yet not so far-fetched. According to reports, he maintains a solid bond and relationship with his elder brothers, and this helps to keep him grounded and on his toes constantly.
His love, commitment, and respect for family values are something that we believe many young people of his age can learn from and emulate.
(2) Players with a great mastery of his athleticism and huge size are reportedly never seen in the sport often. His technical abilities and skills make him the dream of almost every major college in the United States of America presently, yet he remains as humble and unfazed as any other regular Joe.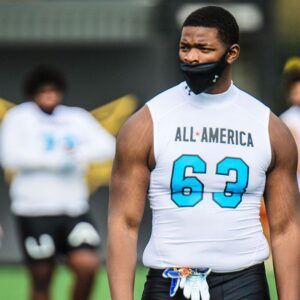 This is another excellent quality to have, especially for someone getting such a mega load of national and international attention because of his generational talent. It is so easy for young ones to get carried away and lose their way in the euphoria of all the media hype and glamour, but that has not been Samson's story.
An industry average ranking platform that obtains its ratings from the major media recruiting services, 247Sports Composite Rankings, recently declared Samson Okunlola as the No. 3 offensive tackle in the United States. He is also currently rated as the No. 32 overall 2023 college football recruit.
This is not a mean feat by any standards for a 16-year-old boy, and we pray that God will continue to watch over him and promote him even beyond his wildest dreams and expectations. Amen.