2 Other Significant Records That Show How Amazing Nigeria's Tobi Amusan Truly Is On The Tracks!
Nigerian athletic superstar and newest world track sensation, Tobi Amusan, made history on July 24, 2022, by becoming the first Nigerian athlete to win gold at the World Athletics Championship in Oregon after blazing to victory in the women's 100m hurdles.
Having previously shattered the existing world record in a jaw-dropping semi-final race where she set a new world and personal best record of 12.12secs, Tosin was not done breaking and rewriting the records just yet.
The Nigerian athlete stormed to gold in grand style during the final, as she flew over the line in 12.06secs to set another new world record at the Hayward Field Arena in Oregon, United States of America.
Keni Harrison of the United States previously held the world record 12.20secs set in 2016. Tosin dusted the likes of Jamaica's Britany Anderson, who claimed silver in 12.23secs, and the Olympic champion Jasmine Camacho-Quinn of Puerto Rico, who came in third for bronze in 12.23secs.
Sadly, though, Tosin's winning time in the final will reportedly not be recognized as a world record because of a "strong following win of 2.5 metres per second." She was, however, awarded a $100,000 cash prize for her remarkable feat.
Whatever that technicality means is inconsequential, as the whole world has already witnessed the greatness and ability of the Nigerian track star firsthand, and we believe this is the most important thing.
Besides the latest records and title she's added, the Nigerian track star also holds two other prominent records, which are the African 100 meters track record, and the Nigerian 100 meters track record, too.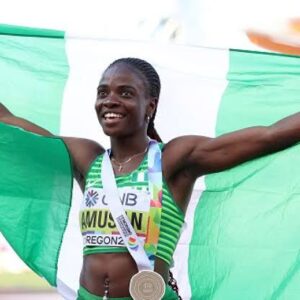 Her clean sweep at the world championships now means that she is the undisputed 100 meters track queen of the world, and this is no mean feat for any athlete!
Born Oluwatobiloba Ayomide "Tobi" Amusan in Ijebu-Ode, Ogun State, Nigeria, on April 23, 1997, the Nigerian track and field athlete competes as a sprinter and specializes in the 100 meters hurdle.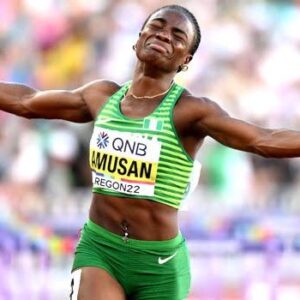 An Alumnus of the University of Texas, El Paso, TX, USA, Tosin was ranked third before this recently concluded world championship in Oregon.
Her remarkable rise to the top of her career is an inspiration to both male and female athletes like herself and many other young people worldwide who are also dreaming of making the most out of their God-given skills and talents.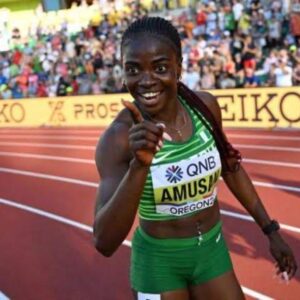 You can be whatever you set your hearts on to become, and there are no mountains or hurdles you cannot surmount and overcome in this world as long as you never quit or give up trying!
We congratulate the new world track champion, and we wish her all the very best in her career as she progresses.