Is Brittney Griner Being Set Up By Her Russian Attorneys So Russia Can Have Another High Profile American Prisoner? Here's Why We Believe So!
Embattled American basketball star Brittney Griner appeared briefly in court for her drug trial in Russia on July 26, 2022. Still, her scheduled testimony was moved forward to July 27, 2022, by her defense team, who requested that the athlete be given a little more time to prepare for her testimony.
Speaking to the media after the court session, one of her lawyers, Alexander Boykov, said: "Griner will testify tomorrow, and after that, it's her decision whether she answers any questions or not."
Her defense team remains firm on their argument that the cannabis oil found in her luggage was for medicinal purposes, and prosecutors will reportedly also have an opportunity to question her when she takes to the stands.
The two-time Olympic gold medalist, who made a brief court appearance at the Khimki court of the Moscow region where her defense team presented evidence, also had a lovely message for her wife, Cherelle. The latter reportedly recently graduated from law school.
Brittney, who had arrived in court holding up two photographs in a clear, plastic sleeve, said they were photos of her wife, two best friends, and teammates. Her short message to Cherelle read: "Good luck on the bar exam," and the star player also disclosed that she had "no complaints" about her treatment and she's "just waiting patiently" for everything to work out for her eventually.
Recall that Brittney faces up to 10 years in a Russian prison after pleading guilty to drug charges earlier in July. However, her defense team called a key witness who testified on her behalf during today's hearing which lasted for about one hour.
The witness, a narcologist named Mikhail Tetyushkin, told the court that, based on the WNBA player's prescription, it is likely she used the cannabis oil found in her luggage for medical purposes rather than recreational purposes.
According to him, "medical cannabis is a popular treatment specifically among athletes in many countries outside Russia."
Mikhail told the court that there is no global standard on the quantity of cannabinoids in medical marijuana while also educating the court about how athletes use it to treat chronic pain. He added that its frequent use or abuse could have side effects for a professional, like relaxation and inhibition of reaction times, and Brittney does not have any of these symptoms.
Another member of Brittney's legal team, Maria Blagovolina, also argued that the initial report from the prosecution's expert witness was "inconsistent and not according to scientific and legal standards."
Blagovolina said the report from the prosecution's expert witness did not determine the quantitative content of tetrahydrocannabinol (THC) in the cannabis oil found in Griner's luggage. THC is the principal psychoactive substance in cannabis.
When the hearing concluded, Blagovolina said Tetyushkin "explained that in various countries — namely in the US — medical cannabis is a popular treatment specifically among athletes."
"Thus, with the prescription in place, Brittney may have used it for medical but not recreational purposes," Blagovolina added.
This latest hearing is the WNBA star's 5th in her ongoing criminal trial which is reportedly expected to be concluded "early next month" (August), according to her lawyers. The US Embassy Charge d'Affaires Elizabeth Rood was in attendance during today's court session.
Some shocking facts were again mentioned during the recent hearing, and it raises an alarming prospect and question in our minds:
(1) Is Brittney being set up to end in a Russian prison?
During her trial, the American star's legal team recently revealed that her "Russian attorneys recommended her guilty plea."
This admission is as bewildering as it is baffling, and it surely gives us a strong feeling that something fishy seems to be in play here. Sadly, her legal team is either part of the plot, or they're simply too naive about how dirty Russians can play when they are bent on getting something!
According to reports, during a recent survey of the rate of successful convictions in the Russian legal system, it was discovered that over 98% of every case where the defendant pleaded guilty always ended in a conviction against them, as their plea is firmly counted as an admission of guilt and any other factors are waved aside.
Do those Russian attorneys who allegedly recommended that Brittney plead guilty to the drug charges against her not know this fact – which is impossible, by the way – or what exactly is going on in her case?
A statement released by her lawyers today said: "Brittney sets an example of being brave. She decided to take full responsibility for her actions as she knows that she is a role model for many people.
Considering the nature of her case, the insignificant amount of the substance, and BG's personality and history of positive contributions to global and Russian sport, the defense hopes that the court will consider the plea as a mitigating factor and there will be no severe sentence."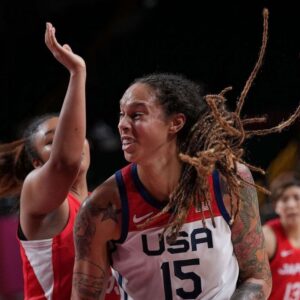 Will this "hope" of theirs be enough to rescue the WNBA star from what is starting to look like a trap she's fallen into already, or will she be convicted and sentenced to a torturous 10 years in a Russian hell hole? We will bring you more updates after her testimony and hearing on July 27, 2022.
Meanwhile, what do you think is at play with the hazardous recommendation of her Russian attorneys and everything that has happened so far?
Please share your thoughts in the comments section below or via our Facebook pages: Wenetly and Prof. Mgbeke