Meet 11-Year-Old Kanyeyachukwu Tagbo-Okeke – The Autistic Artistic Genius Who Is First African To Win The Prestigious Flame of Peace Award
When Kanyeyachukwu Tagbo-Okeke was reportedly diagnosed with autism when he was only 3 years and 6 months old, many other parents would have become gloomy, depressed, and given up on him. Luckily, though, Kanye's folks were not such people, and it has worked out perfectly for him today!
Although limited in verbal skills by his physical challenge, his parents noticed early on, too, that he was an exceptionally gifted artist, and they wisely helped him to develop it fully.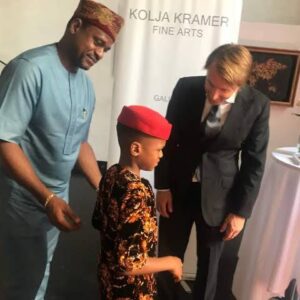 A resident of Maitama, Abuja, Nigeria, his mother disclosed that they noticed that Kanye was always drawing on walls and any surface he could find. Hence he was enrolled in an art class, and he began to communicate by reflecting his emotions in his works and painting.
He has since grown into a remarkably renowned autistic artist who helps other autistic kids by raising awareness about autism.
In 2021, Kanye was awarded the prestigious Flame of Peace (Flamme des Friedens) award in Vienna, Austria. Described by many art critics as spectacular and phenomenal, the young Nigerian is the youngest ever awardee and the first-ever African in the history of the award to win it.
Flame of Peace (Flamme des Friedens) is an award granted by the Austrian non-profit organization Vereins zur Förderung des Friedens (Association for the Promotion of Peace), which promotes world peace.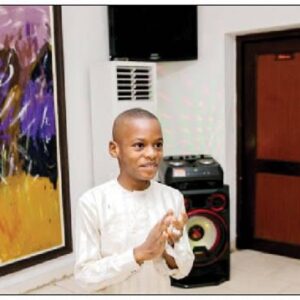 Kanye was reportedly discovered by an art enthusiast who visited the Nigerian ambassador to Vienna, Austria, and saw his outstanding works on display there, and the rest is history.
His work was subsequently displayed at the prestigious annual OPEC Fund for International Development (OFID) art exhibition. The premium yearly art exhibition brings together artists from around the world to showcase their works. Kanye stood out among over 70 other renowned artists and the crème de la crème of the art world present at the competition.
Speaking about the award, his mother, Sylvia Tagbo-Okeke, said: "We are happy that Kanye won the award. We have noticed his artistic skills, and we are sure that he would go places.
This award has shown that Nigerian kids can go places if given the opportunity and enabling environment. This award is not only for us but for Nigeria as a country."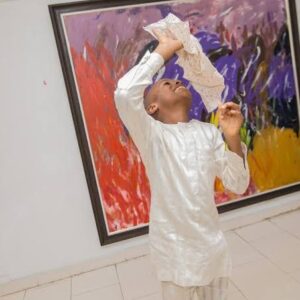 Also speaking on behalf of the institution during the award, Dr. Kolja Kramer added: "We are delighted to be able to inform the public that the selected Artist, Kayne, will receive a medal by the Flame of Peace Association handed over by the President of this institution HIRH Archduchess Herta Margarete Habsburg-Lothringen during the opening ceremony of the PEACE exhibition."
And having received recognition from such a well-respected global organization, Kanye was also awarded the United Nations Young Artists For Peace Award.
From being diagnosed with autism before he was four to becoming the first sub-Saharan African child to receive such a prestigious award as the Flame of Peace, Kanye's life teaches us all one crucial lesson: It is only those who quit that fail in life!
No matter the odds or how high they are stacked against you, there is always something inside you that God has deposited there to help you get through it.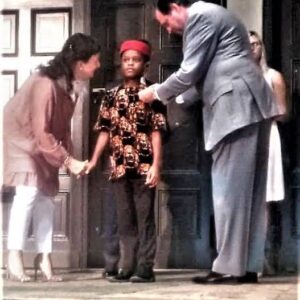 When life attempts to break you with some harsh and unforeseen setbacks, never become depressed or seek to throw in the towel. An enormous gift may just be lying fallow within or around you, and God has permitted that setback to happen so that you may be still, look to HIM, and HE will surely direct you to that which will liberate you inside of you already.
His parents also teach us a great lesson that no child is useless or an unbearable burden, no matter their physical, mental, or psychological conditions. While many would have given up on the boy, they did not, and today they are reaping the fruits of their persistence and divine wisdom to hold on and help him develop his innate abilities.
Never let your present situation and challenges cloud your judgment and box you into making hasty permanent decisions.